Discover more from good and bad ideas
a social science blog
ebay is bad at running auctions
imagine if dairy queen made bad ice cream
I took a 5 month sabbatical from my real job this year, and in that time I got a lot better at playing the guitar, wrote a paper on some consequences of people losing friends over the 2016 election, and started a small trading card company called Pink Label Cards.
My company has now sold about 300 cards, mostly on eBay. We've sold both fixed price cards and conducted literally over a hundred auctions. And through this I've learned that eBay as a company is only mildly interested in conducting sound auctions. The big upshot of this is I actually think there's a real market for an auction site that is easy to use and fixes the large, obvious problems with eBay's marketplace.
good and bad ideas is a reader-supported publication. To receive new posts and support my work, consider becoming a free or paid subscriber.
Here are a few of the issues eBay has. They're interrelated, so apologies for repeating myself in places.
bids on auctions aren't binding
That's right, you can just bid for stuff and then not pay. Did you get drunk and bid $10,000 for a $5 Pokemon card? Whoops! Just don't pay. Did someone outbid you on an item you really want? Screw them over by bidding $10,000, winning the item, not paying, and then locking it up in eBay process for a week.
Here's how eBay works from a bidder's perspective. You can bid on stuff. And then if you win you get to decide whether to pay or not. You have days to decide. And if you don't pay, well, basically nothing happens to you. As a seller, it is extremely difficult to get eBay to take action against bullshit bidders. The best you can do is just prevent them from bidding on your items in the future.
EBay does not let you leave negative feedback for non-payment. There is a separate system which I have not actually been able to get to work that is like an "unpaid item case" and the resolution seems to be just that you can relist the item for free after like 3-5 days. The system is so broken that, as you can see here, the best thing a seller can do is leave positive feedback that says "this buyer does not pay" to tell other sellers to block the buyer. Lol
Having no consequences for not paying does all kinds of fun things to auctions. It's well known in trading card circles that shady sellers shill bid for their own items and then don't pay. It goes like this. I have a seller account, and I make two shill accounts. I list a $10 item from my seller account, and then I have my two shill accounts have a bidding war where the item ends at $30. The winning shill account doesn't pay, my seller account doesn't take action against the shill account, and eBay tracks this publicly as a completed sale for $30. I can then go to a card show, pull up eBay sales, and say "look, my $10 is actually worth $30."
EBay will say "we have systems in place to stop this blah blah blah." As the kids used to say: rofl. This behavior is common enough where after 3 months of buying and selling cards I bake it into my analysis of every sale I see, and so do the people I'm doing business with.
eBay doesn't care about its reputation system
Closely related to bids not being binding is that eBay's reputation system is a joke. If bids aren't binding, but you want them to ~sort of be binding~, you better have an ironclad reputation system that quickly ejects bad apples from the system. That is transparently not the case. I'll just re-link the bad apple account that bought like 9 items from us and paid for 2 that has been doing this behavior for at least months and probably years.
I don't mean to say it's all buyers that are bad—there are plenty of bad sellers too! We had an issue with a seller who listed a card as "near mint or better" and it showed up with lots of scratches on it. I contacted the seller, assuming it was an honest oversight. The seller told me it was my fault and I must not know what I'm doing because scratches are near mint. No bueno. So I left negative feedback and requested a return via eBay. The seller got very mad, found our Facebook page, and left us a negative review. EBay did have us return the item and issue a refund, which is good. But then they took down our negative review from his page. He did not agree to a return, we used eBay's policies to force him to accept a return. He was very upset about the return, to the point of contacting us off of eBay. You can read his complaints in the thread I just linked. Just to be a bit petty, here're pictures of the card itself.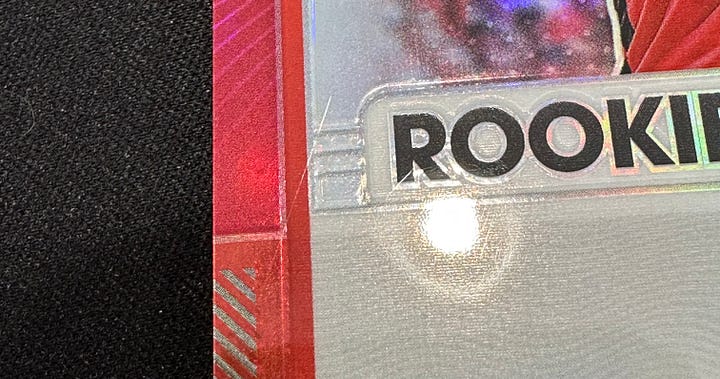 Here's another example: a user called SemperFiSlabs has 86% positive feedback, which is abysmal. That means 14% of people are angry enough with what they bought that they actually go through the eBay labyrinth to leave a negative review and the seller cannot appeal to eBay to take it down. There are even more ~neutral~ reviews which are basically negative. You can see them here. The tenor of the reviews is all the same: the item listing is misleading, and people think they are buying a specific high-value card for a very good price, when in fact they are buying a grab bag of bullshit for a very high price. People then complain, and the seller responds "you should have read the listing you must be new here." These are called "repacks," where you bundle your old stuff together into packs and hope people will roll the dice. You put a "chase" card in, usually a very desirable and expensive card. This particular seller writes their listings for repacks in a consistently misleading fashion so people think they are buying the chase card rather than buying a 1/1000 chance at the chase card.
Any company even mildly concerned about the integrity of its reputation system would take this seller down. They're scamming casual consumers that a company like eBay should be designing systems to protect. Not everyone can be an expert in everything, that's why we have centralized organizations to like, make rules and stuff. EBay is supposed to be that organization here. But again: lol.
eBay is uninterested in creating a place where people can easily determine the market value of items
Beyond the concerns I just raised, eBay is not in fact easy to use. It is both complex to get started as a seller and they basically don't do any checks to see if you're legit. Their AI/ML tools are not good at distinguishing items from one another. Because people can just not pay for stuff, you don't know if recent sales data is real or not. I'm not an auction theory/mechanism design guy, but maybe economists would complain about the actual design of the auctions themselves?
But let's step back for a second: it would be awesome to have an online site where you know the buyers and sellers are legit (tied to real identities), and people can list anywhere from a few items to thousands of items and then lots of buyers can come bid for those items in a well-designed auction and the end result is you determine the fair market value of stuff. This would be obviously useful for things like trading cards, but it would also be useful for cars, concert tickets, or anything else that is either fast-moving price wise or difficult to value.
what i'm saying is that one of you should start ebay2
Let's imagine a competitor to eBay called eBay2. This new company eBay2 invests heavily in automated item categorization and summarization so items can be easily identified by buyers and sellers. This makes it easy for sellers to list and buyers to compare items. Every seller on eBay2 has to use their real identity, which is verified by the company. Every buyer on eBay2 has to use their real identity, and they are given a bid limit based on their payment information. Bids are binding. eBay2 invests heavily in a state-of-the-art reputation system and aggressively removes bad apples.
The result is a lower anxiety marketplace where you're confident that the person you're transacting with is legit. Bigger companies start using eBay2 services, perhaps concert promoters and sports leagues who want to actually auction tickets for big events. eBay2 invests in a bid and chill marketing campaign to take the stress out of auctions for people. The money rolls in.
I love the web 1.0 ethos, but we've learned a lot since 1999 and it's time for eBay (or another company) to like get with the times and create a sound digital marketplace. Maybe it'll be Goldin, or Alt, or some other site. But I'm hoping it happens soon. eBay makes 10 billion a year, and if they were competently run that number might be quite a bit higher.
good and bad ideas is a reader-supported publication. To receive new posts and support my work, consider becoming a free or paid subscriber.